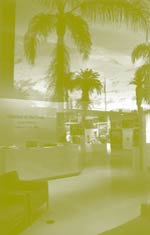 Gallery Exhibitions
The exhibition program features the work of contemporary artists working in all media. The HBAC has established a national reputation for presenting artists of national and international prominence. The annual, unjuried exhibition of local and regional artists, Centered on the Center, attracts nearly 300 artists for the salon style presentation.

Education Program
The Art Center offers a wide range of fine art classes for youth and adults taught by professional artists. In a multidisciplinary educational approach, classes include instruction in drawing, painting, watercolor, musical magic dance for kids and Polynesian dance. Information and registration is available at the Art Center and in the Sands Community Services Guide.

Art at the Beach
The popular Art at the Beach art camp for children ages 6-12 years old offers a week-long experience exploring the visual and performing arts. Full and half day sessions are available the 3rd week in June through the 3rd week in August. Taught by professional artists, each week explores a different theme through a variety of media, culminating with an art project held at the beach on Friday afternoons. Camp-Teens is devoted to teens ages 13-15. Call the Art Center for details at 714.374.1650.

Music Series
Jazz at the Center and the Friday Night Blues offer an opportunity to enjoy unique concerts in an intimate, cabaret style setting. Sponsored by the volunteer council, the Alliance, Jazz at the Center presents straight ahead jazz on Sunday afternoons. Sponsored in part by Heineken USA, the Friday Night Blues features a variety of blues styles including boogie-woogie, swing and delta blues. Coming soon:
* As both a membership and fundraising organization the Art Center produces several events throughout the year to raise funds and awareness for the arts.

The Annual Benefit Art Auction is a dynamic party for the arts. Featuring a silent and live auction of more than 65 works by contemporary artists, hors d'oeuvres, wine and entertainment, the art auction raises funds for the Art Center's exhibition programs.

The Fall Brunch at the Center Club, hosted by the Art Center Foundation, features gourmet dining, fine wines, a silent and live auction in an elegant and sophisticated setting. Proceeds benefit the children's education and outreach programs.

Volunteer Councils
The Art Center enjoys the support of more than 100 volunteers. The volunteer council, The Alliance, is the original support council of the Art Center. Members assist at special events, produce the highly successful Jazz at the Center, and participate in mailings and special projects. Volunteer applications are available at the Art Center.